Having spent a dozen years in the role of state GIO, I have thought a lot about the importance of that work. We in government GIS often talk in terms like "coordination," and certainly coordination and governance is the core of what a GIO does. But why is it so much more important in GIS than in other subdisciplines of IT? The rest of the data world is catching on, with the (fairly recent) advent of chief data officers. But we in GIS have been talking about and working on those issues for as long as I've been in the field.
What's so special about spatial? I think it comes down to a simple fact. The great majority of the financial investment required to get a GIS initiative to the finish line goes into data that is not specific to the project. That's really not true in other data-intensive disciplines. It was especially true in the early days, but foundational data continues to be a substantial investment. The data that it takes to make a plain old base map adds up to a big cost. And everybody doing GIS needs that same base map data. So it has always been obvious to anyone without unlimited funds that they're better off sharing that cost. And that only happens through coordination.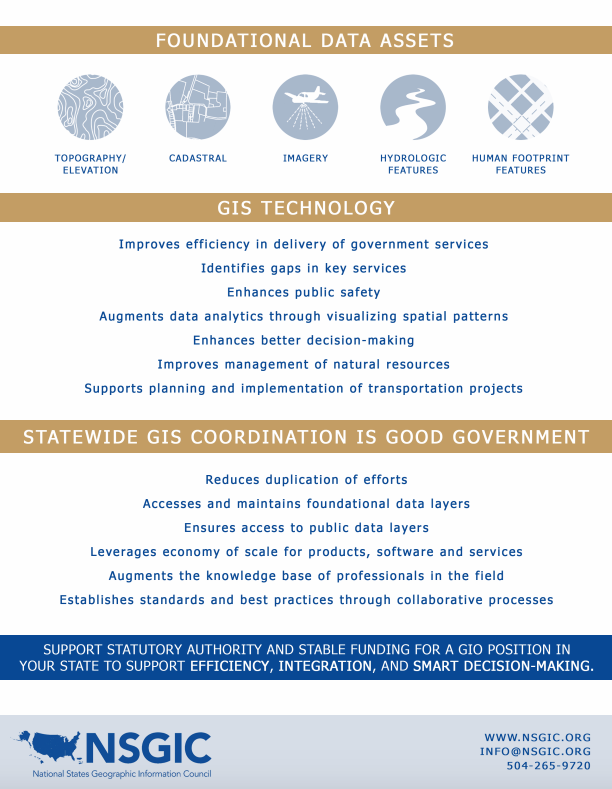 We probably could do a better job selling the importance of that concept outside of the GIS world. And the term that rings the right bells is cost avoidance. GIS coordination saves money, and lots of it, by preventing duplication of efforts. In the absence of GIS coordination, everyone who needs the foundational data would either build it themselves or buy it from a commercial source. That could mean the quality of the data might be inferior and it would certainly be more costly. The return on investment for collaborative GIS is exponential.
That one is the biggie, but there are also lots of other ways that a GIO adds value. NSGIC has produced a brief about the Value of a GIO. Read it, take it, use it. Coordination and information sharing is the rising tide that lifts all boats.
Download the pdf

Members may access this document at any time in the
GIS Operation Resources and Guides section of the NSGIC Library.
Share this post: