Partner Spotlight: Dewberry
Power of Partnerships: Standardizing and Streamlining Preliminary Damage Assessments
In 2019, there were 100 major presidentially declared disasters in the U.S. providing recovery assistance to 39 affected states and territories. In order to obtain a presidential declaration, a governor or tribal chief must submit a request to their Federal Emergency Management Agency (FEMA) regional office for assistance. This request includes preliminary damage assessment (PDA) information to document the extent of the disaster and its impact on individuals and public facilities. PDA information is used to show that the disaster is of such severity and magnitude that supplemental federal assistance is necessary for response and recovery efforts. For severe or catastrophic events, a governor or tribal chief may submit a declaration request prior to performing a PDA.
At Dewberry, we understand that dealing with the aftermath of a disaster is a stressful and trying time. Documenting damages can take time and resources that are better spent focusing on response and recovery efforts. Disasters are increasing in frequency and severity, therefore a streamlined approach to documenting damages makes the process of submitting declaration requests faster—facilitating an expedited recovery process. In partnership with ArdentMC, Dewberry supports FEMA, states, territories, and local agencies to help better quantify and quickly assess damage in an effort to expedite needed aid to impacted communities. We are now helping to facilitate and simplify the PDA process in an effort to decrease assistance timelines. Under this contract work with FEMA, the team is providing subject matter and technical expertise to help standardize collection of incident reported damage assessments in impacted areas using newly designed Esri Survey123 templates. These templates use GIS technology to electronically collect, submit, and validate damage assessment in a standardized and sharable way. The platform being used to manage the data collection is hosted in an Amazon Web Services (AWS) GovCloud region and is accredited by the Department of Homeland Security (DHS). Utilizing ArdentMC's AWS competency in public safety and disaster response, coupled with Dewberry's gold partnership with Esri, the PDA team has created a highly scalable collection platform for FEMA's damage assessment mission.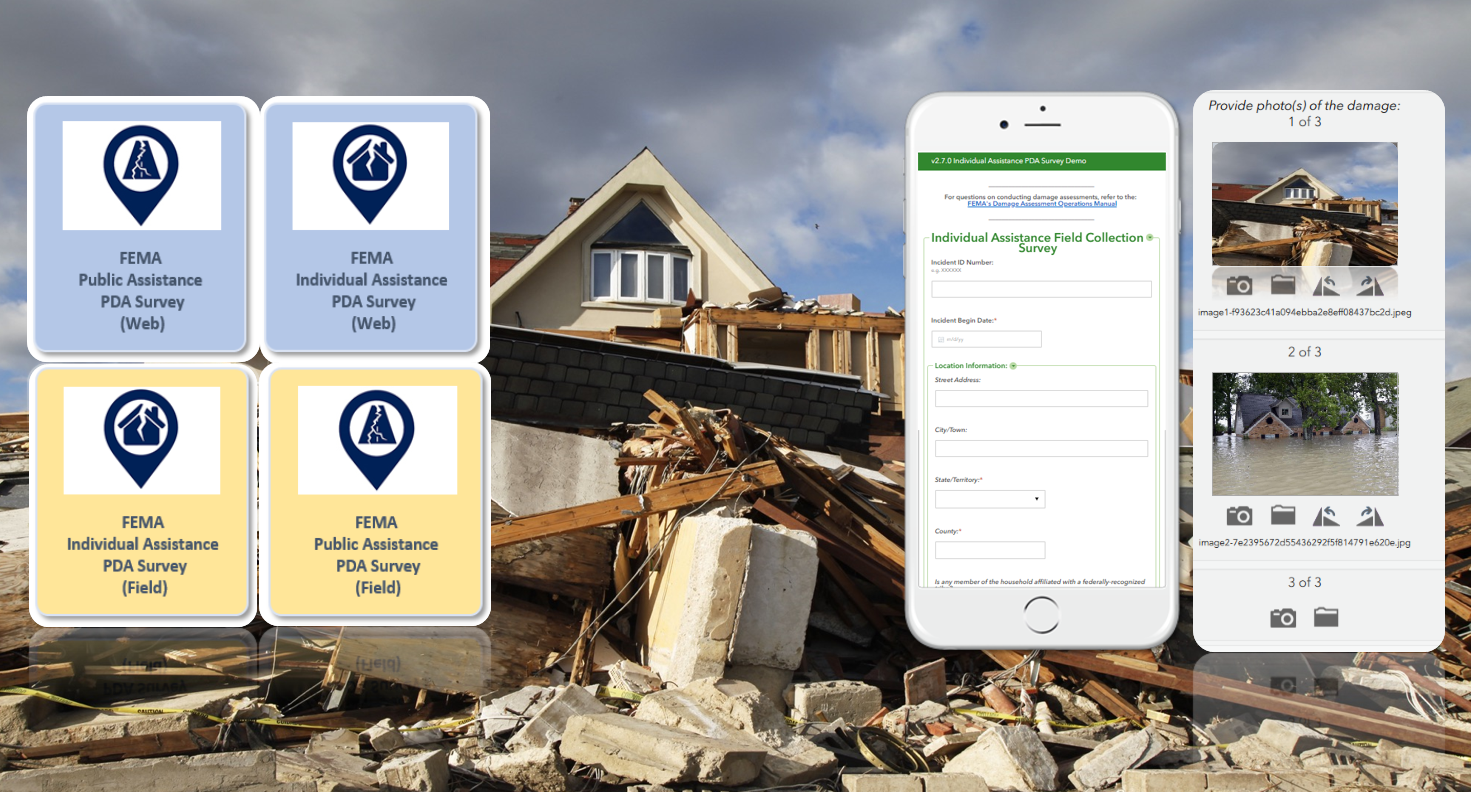 Working in Survey123 web and mobile apps these templates prompt the user for specific details regarding both individual assistance (IA) and public assistance (PA) programs, insurance, location details, costs, and more. FEMA's latest version of these smart forms can be downloaded here: https://www.fema.gov/preliminary-damage-assessments. These new Survey123 templates empower state, local, tribal, and territorial partners to independently conduct thorough, detailed, and accurate PDA's after an incident and to seamlessly share that data, leading to better communications in times of disaster.
If you have not yet reviewed these new FEMA PDA GIS templates, familiarize yourself with how they might help your agency's GIS organization bridge any operational gaps with your state's emergency services to better assess damages in a unified way. We encourage you to exercise these workflows and collection methods often, so that you might achieve better unity of action should disaster strike. To date, this new FEMA PDA Survey123 template has been tested in Texas, Louisiana, Georgia, New York, California, Nevada, Oklahoma, and Michigan. Additional states and territories are adopting and adapting this template for their PDA purposes each year.
Dewberry was instrumental in performing damage assessments after Superstorm Sandy (image to the right)
If you have already seen these FEMA PDA resources and are working with them currently, let our PDA program team, or the FEMA Recovery office, know what you think. We appreciate hearing how states are applying these templates into their GIS workflows. Alongside the Survey123 template, two new products have also been produced for PDAs: the Smart Form (XLS) and the Data Schema (for mission partners that may not have Esri tools readily available to them).
Dewberry employee enters damage assessment information on a tablet while another employee searches for a water line to indicate the height of the flooding along a severely damaged home's exterior (image at bottom)
The entire PDA program team welcomes any and all feedback so that we can continue to make these assessment templates useful and used.
Dewberry staff provide a wide array of geospatial technical support and engineering expertise to impacted communities across the U.S.—before, during, and after disaster strikes. The on-the-ground and remotely sensed data and insights we provide to our clients are used by FEMA and state, local, and tribal agencies to support damage assessments and help expedite assistance to those who need it most. Coupled with our business partner ArdentMC, we welcome any opportunity to engage with NSGIC and its individual members to advance the goals of better geospatial preparedness within a state, across a region, and at the national level. Let us know how we can ignite the power of partnerships to better facilitate your GIO mission.
Share this post: