Shining a Light on Change with Recurring Lidar Programs
Our landscape is in a state of constant change. Cities and towns are expanding at a rapid pace, while natural disasters are rearranging rivers, eroding shorelines, and crumbling infrastructure. To effectively manage change, we need geospatial data that is both fit-for-purpose and recurrent, as well as visualization tools to communicate this information to a wide range of stakeholders.
The Value of Recurrent Lidar Data
Lidar technology is commonly used to map bare-earth hydrologic features, infrastructure, and vegetation. These data are a staple for many in the NSGIC community, providing critical information for land-use planning and floodplain management. Nonetheless, a single lidar dataset is not enough for managing a changing landscape. Only a recurring lidar program allows us to consult the past, understand the present, and prepare for the future.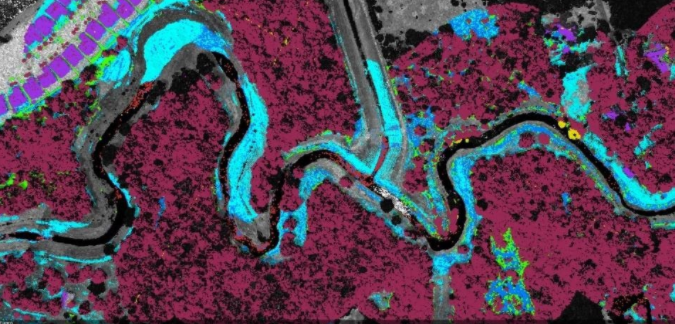 Today, government agencies tend to refresh their lidar datasets on 3-, 5-, or even 10-year cycles. Many other spatial data users, however, are beginning to see the economic value of planning more frequent, and in some cases annual, lidar programs to detect human-made and environmental changes. These closely recurring datasets (assuming similar resolution and accuracy) can play a crucial role in understanding and maintaining assets, protecting the environment, and safeguarding life.
Lidar point cloud data from 2014 and 2017 compared to reveal areas of tree growth (red), erosion (gray), sediment deposits (blue), and urban development (purple)
Mapping Change in Texas
Fugro recently demonstrated the effectiveness of a closely recurring lidar program through a water impact comparison of lidar datasets from 2014 and 2017 for a canal near Houston, Texas. The study involved creating an automated process for comparing lidar-derived, hydro-flattened digital elevation models to calculate variations in elevation. The result was a color-coded raster product identifying areas of sediment deposits along the banks, instances of erosion due to extreme water flow, and changes to the built environment.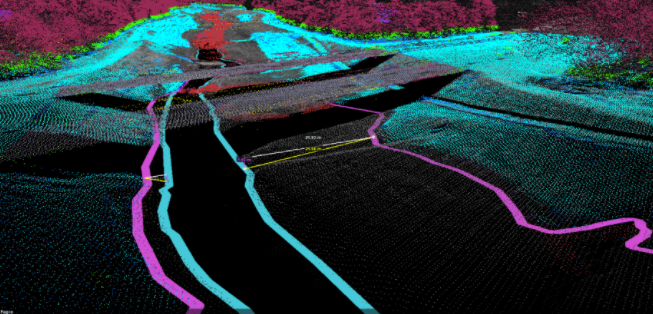 Both lidar datasets were processed with additional point cloud classifications beyond the standard USGS specifications to include buildings, vegetation, and culverts. The enhanced classifications are an advantage for many applications but especially for change detection as they reveal the impact on vegetation, urban infrastructure, and transportation and utility assets.
Hydro breaklines showing measurable expansion of the canal between 2014 (blue) and 2017 (pink), an effort to ensure the canal can withstand increased water flow caused by a major storm event
Visualizing Change in 3D
While it is true that change detection is nothing new to the geospatial community, integrating all data—the change analysis raster, classified point cloud, and hydro breaklines—is where we see the most benefit. Fugro SIMmetry, a 3D GIS environment that integrates varying data types, makes this possible. 
Plugging the change raster of the canal into Fugro SIMmetry immediately highlights areas of significant erosion, sediment deposits, modification of flow, vegetation growth or decline, and new urban development. In this environment, the change raster provides a powerful tool for communicating technical findings to non-GIS audiences. In addition to erosion, sediment, and flow, we can now also address issues related to property ownership, political boundaries, environmental ecosystems, vegetation health, water quality, and flood predictions.
Find out more about Fugro SIMmetry.
Putting it into Practice: We Can Help
It is easy to see that recurring lidar datasets are key to managing changing landscapes. Visualizing these datasets within a 3D GIS yields operational efficiencies by minimizing field visits and improving decision making. 
Recurring data collection programs do pose administrative and budgetary challenges. We can help. With decades of experience designing and executing lidar programs across the nation, Fugro is here to advise the NSGIC community about project design, budget preparation, funding strategies, specifications development, deliverable options, platform selection, and change detection solutions. Let's talk about maximizing your return on investment to ensure your data is turned into actionable knowledge for years to come.
Post-hurricane change and subsequent repair of the canal illustrated by the change analysis raster
Share this post: