Sponsor Spotlight: Hexagon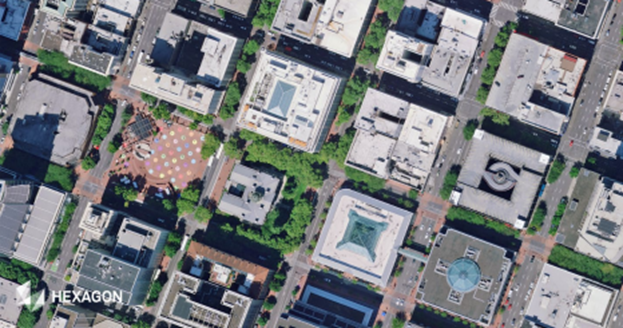 The HxGN Content Program, Hexagon's aerial data program, offers the largest library of high-resolution multispectral aerial imagery and elevation data of the United States. For state and local governments, Hexagon provides a flexible licensing model that enables stakeholders to tailor data collection to their exact specifications.
Trevis Gigliotti, Director, Technical Content Solutions at Hexagon, explains how state and local governments can benefit by partnering with Hexagon.
The geospatial imagery space has evolved significantly over the last decade. What are some notable trends we're seeing today?
There are two significant trends that we're experiencing. First, the availability and overall commoditization of imagery data. We've all searched for our house or landmark on our device—it's pretty common practice. Imagery is used in so many applications other than just traditional GIS markets. From planning a hike or mountain biking routes to filing insurance claims, imagery shows up in many new environments.
The second change is how users are accessing data. Formerly, it was common for states or organizations to run an extensive RFP to acquire new imagery data that they would own, QC, manage, host, and serve. Now, using licensed data rather than owning data is gaining momentum. Like in other aspects of our lives, we don't own our library of music or movies; we use streaming services such as Spotify or Netflix. The same concept applies to licensed imagery data. By investing in licensed data, users gain more through saved time, energy, and resources. In fact, Hexagon's data users can rarely tell the difference when using licensed or owned data, and we've done that intentionally.
How does data access work across various sectors and applications?
Given that most licensed data products are cloud-hosted, users can access data from anywhere through a WMS or WMTS connection. At Hexagon, not only do we make data access easy via streaming, but we also place emphasis on ease of use. Our data is built and stored to be able to run algorithms and create workflows. This means it's an ultra-consistent, accurate data product.
What makes data from Hexagon's HxGN Content Program unique?
First, it's our coverage. Not only do we cover the contiguous United States, Hawaii, and Puerto Rico, but we are the only aerial imagery provider that captures statewide data in the same flying season. We use flexible flight plans to ensure you're getting artifact-free, temporally consistent imagery. Second, it's our data quality. We spend a lot of time making sure our data meets rigorous photogrammetric quality standards. We do this intentionally to make sure our data will be accurate and reliable in customer workflows and processing. Finally, because of our connection to Leica Geosystems, we get access to best-in-class aerial imaging technology.
Speaking of technology, tell us about the ContentMapper, the latest imaging sensor from Leica Geosystems.
The Leica Geosystems ContentMapper is a real game-changer that's built for speed and efficiency. This imaging sensor can fly twice the amount of data at our current flight profiles or capture data at twice the resolution without dropping flight altitude or flying more lines. This is a turning point for the Content Program and our customers, and with this technology, our goal is to offer 15-centimeter resolution imagery of the contiguous United States within the next few years.
But that's not all! The ContentMapper brings a new level of flexibility to the Content Program. Rather than offering standard data products, such as 30 cm resolution leaf-on statewide imagery, the ContentMapper will allow end-users to tailor the data products to their exact specifications. For example, our partner at TNRIS received 15 cm resolution statewide imagery from 2020 and will receive yearly metro updates at 15 cm resolution. Other flexible options include capturing leaf-off data, flying more often, or accessing ultra-high-resolution data such as 5 cm resolution. This offering is called Content+, where "plus" means you get more value out of your data without a significant price increase.
Imagery captured using the Leica Geosystems ContentMapper at 15 cm GSD, 16,000 ft AGL
How would one get started to learn more about the Content+ offering or the HxGN Content Program in general?
There are several ways to get more information. You can head over to hxgncontent.com to view our coverage map of data that's available now and coming soon. We plan to fly 16 states this year, several of which will be captured at 15 cm resolution. If you want to discover what's possible in your state, you can reach out to me or contact one of our resale partners. We'll discuss how your imagery program is currently running and how Hexagon can help you achieve your goals.
Share this post: