With the recent acquisition of Geodynamics LLC, NV5 Geospatial has built one of the most comprehensive suites of solutions for geospatial surveys of deep water and near-shore environments. The combination brings together complementary, advanced technologies – Geodynamics' full-ocean depth sonar-based hydrographic and geophysical surveying with NV5 Geospatial's topographic and bathymetric capabilities – to deliver detailed insights for a variety of applications, including coastal management, flood monitoring, ecosystem protection, research, and more.
"This acquisition was a natural evolution toward our common goal of delivering valuable geospatial insights to our clients," said Kurt Allen, vice president, Federal Vertical for NV5 Geospatial, North America's largest and most comprehensive geospatial firm. "Our decades of combined experience and expertise using the most sophisticated technology for data acquisition and analysis will enable us to meet the most demanding client requirements."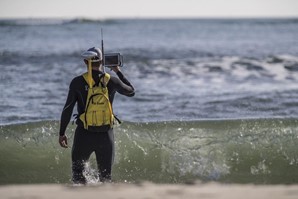 Only a handful of firms in North America share NV5 Geospatial's topobathymetric and bathymetric capabilities at any level, much less have mastery of the science. We lead our peers in acquisition capabilities. We deploy leading-edge sensors like our newly acquired RIEGL 840 G. We have world-class experts managing the challenging data processing and developing informed answers that our government and commercial clients demand. In 2020 NV5 Geospatial completed the collection of topographic and bathymetric lidar and digital imagery for the National Oceanic and Atmospheric Administration's (NOAA) largest coastal mapping project. These efforts included updating information for 12,000 square miles along the Eastern Seaboard, Pacific, and Gulf Coast that have not been surveyed for hundreds of years.